Unless we sign up for every single beta and create an account with every single new social platform, we're likely going to miss one of two of the social media 'next big things." I know you're a little too busy to vet every new social media experience, so I threw this list together so you can pick through and see if any of these work for you!
Keep in mind this isn't a comprehensive list nor is it any indication any of these services will last the test of time. I just think they're cool.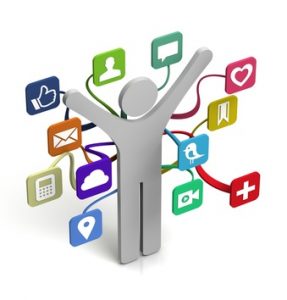 Ghost 
I can't tell you how many times I've slammed my head against the desk trying to get WordPress or Blogspot to cooperate. All I want to do is to write the blog and stick up there without having to learn Advanced Programming 101. I'm writing a hilarious and insightful post, not building a website.
That's why I'm very excited about Ghost, the upcoming blogging platform funded by fans through Kickstarter. Ghost is all about blogging – you sign in and get to typing away. There's no themes or other craziness to deal with; you're there to write, so get to it. Plus, it works on your smartphones and tablets so you can now share content on the go!
Potluck 
Simplicity seems to be a running theme throughout all the up and comers in social media. If you're tired of how complicated Facebook has become, with ads, games, and messages everywhere, you'll probably want to try out Potluck.
Potluck is simple in that it's designed for users to share fun and interesting links they found around the web. Then their friends (and their friends' friends, and so on) start a discussion about the link.
That's it. While it may seem overly simplified, keep in mind it's actually designed to be a mobile app, although it's only on the web as of this writing. But the simplicity works perfectly for a mobile experience and could be where social media fans flock to next.
Thumb 
Speaking of conversation starters, nothing gets people talking like a striking image. That's the thought behind Instagram and Pinterest and why those two services have done so well so quickly.
Another social media service that relies on this is Thumb. Started back in 2010, the mobile app (it's also on the web, but that isn't where people use it) lets users vote up or down on pictures others upload. So if you want people to rate your new shirt like in their introduction video, simply take a picture and people tell you if it rocks… or to save the receipt.
Thumb has also obviously considered the business side of their service as they also have Thumb Pro. It works basically the same as regular Thumb but offers you chances to see specific data that can be helpful to your business. You can even tailor each picture/post to a specific audience.
Although Thumb seems the most business oriented, there's no way to tell which of these will actually take off for PR purposes. Which one would you use? Are you testing out any other new social media services we should know about?
This article is written by Mickie Kennedy, founder of eReleases (http://www.ereleases.com), the online leader in affordable press release distribution. Grab three ebooks, including My Facebook Formula, a free report on Facebook and why you should be using the largest social network for your business, here: http://www.ereleases.com/insider/freebooks.html