Few things are as frustrating as answering dozens of questions for a journalist and never seeing them in the paper or broadcast the next day. You may think you just keep running into bad luck, but there may be more to it than that. You may actually be sabotaging your chances of appearing in the media!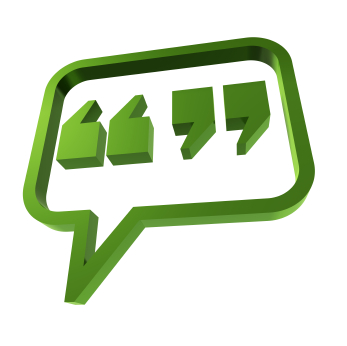 I can think of two major reasons journalists choose to ignore your words of wisdom. This is aside from doing something ridiculous like blatantly insulting the reporter or using profanity. These two simple reasons are a little more subtle but just as damaging.
What You're Saying
One of the absolute best things you can do to improve your chances of making it into the news with your quote is to study what you've said in the past. No matter what you think, there IS a reason your quote hasn't made it in yet. And it may be something as simple as not being interesting enough!
If you have been interviewed multiple times, take this as a compliment. Despite not experiencing success, reporters and journalists continue to seek your advice. More than likely, you have a solid relationship with them and don't have to worry about point #2 (see below). Use this to your advantage!
If possible – and unfortunately it often isn't – obtain a transcript of your past interviews. Go over them with a fine toothed comb and attempt to discover what exactly what went wrong. If the relationship with the reporter is indeed solid, simply ask them instead.
Was your quote as enticing and informative as you initially thought? Did you come across as full of wisdom or full of something else? Or perhaps you are too vague, or your words don't ring true.  Ask yourself, if you read what you said in a story, would you believe it? If not, then you've located the core of your problem.
Now that you know what you're saying is mostly nonsense, you can work on preparing statements that might stand a chance of getting on the front page of the paper!
Who You're Talking To
How much do you know about the reporters who interview you? Is it usually the same person? Or rather are they different folks but all from the same publication? Even if every single reporter is different, you still should get at least a small idea of who it is. Even five minutes can let you know what their past work includes.
Can you detect any specific angles to their stories? Do they usually approach the news a certain way? If so, you may be able to play that to your advantage. Keep this in mind when you begin your talk with them and you may strike a nerve.
Also just as important is your willingness to provide quotes for a wide variety of things. Just because you're approached for, say, entrepreneurship news, doesn't mean that's all you're good for! What else are you interested in? Even your hobbies can be useful in this regard.
Try to get an idea of what the publication typically focuses on. Even if it's "business," then what exactly in the business world do they report? Even if it's not what your company regularly deals in, you may still be able to provide useful quotes for stories outside your comfort zone. In turn, reporters may call you up for the stories YOU want to be in!
Have you ever been quoted in the media?
This article is written by Mickie Kennedy, founder of eReleases (http://www.ereleases.com), the online leader in affordable press release distribution. Download your free copy of the Beginner's Guide to Writing Powerful Press Releases here: http://www.ereleases.com/insider/beginnersguide.html