Anybody can hang out a shingle and call themselves a public relations professional, but the Public Relations Society of America (PRSA) and friends allows PR pros to prove their skill with the Accreditation in Public Relations (APR). In today's extraordinarily tight job market, APR accreditation allows PR pros to prove to potential employers, clients and partners that they knows their stuff. Not to mention, the APR is the public relations industry's only post-graduate certification program.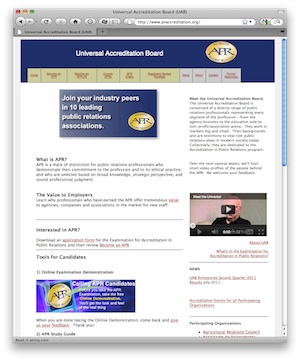 Why strive for APR Accreditation?
1.) Show Your Stuff – Any PRSA member in good standing can take the APR accreditation, but be warned – this stuff is difficult. The PRSA recommends that PR pros have a PR-related college degree and at least 5 years of first-hand experience in the trenches before attempting to become an APR. Because of the difficulty of achieving the accreditation, employers, clients and people in the know look on APR's with great respect.
2.) Move Up – A whopping 96% of APR's say that getting credentialed has been valuable to them in their careers. These days, you probably won't even find 96 out of 100 college graduates to say their degrees have helped them get a career. Ninety-one percent of PR pros also say that achieving the ARP accreditation gave them a sense of pride, and 78% said it helped them develop professional skills further.
3.) Bring Home the Bacon – According to a 2005 survey, APR's earn 20% more than non-accredited public relations professionals. That's none too shabby.
4.) Prove Yourself in a Competitive Field – While the APR is a stellar credential all around, the APR+M is an extra accreditation for PR pros in the military public relations field. This accreditation helps secure Department of Defense and military contracting jobs for public relations professionals.
What to Expect
With all those benefits, earning APR accreditation isn't easy. You will be tested on everything from "Audience Identification and Communication," to "Financial Management," to "Stakeholder Management." It's truly a test of all of your accumulated knowledge as a PR pro.
Ready to take the plunge? Visit the PRSA website for more information about APR accreditation along with a list of suggested study materials and a handy study guide. Good luck!
This article is written by Mickie Kennedy, founder of eReleases (http://www.ereleases.com), the online leader in affordable press release distribution. Download your free copy of the Beginner's Guide to Writing Powerful Press Releases here: http://www.ereleases.com/insider/beginnersguide.html