The targeted Facebook ad trend has been a mixed bag since its release. While some have appreciated the suggestions of products, services, games and what have you based off their profile information, many have complained that the ads are not only mishandled, they are often just plain creepy.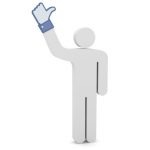 So it's a conundrum businesses face when presented with the opportunity to market on Facebook with these ads. While it may end up garnering sales, companies could stand to take a hit on their public relations, especially if said ads are viewed as deceitful or offensive. Is it worth the risk for your company?
Major Offenders
One of the main problems the targeted Facebook ads campaign has experienced is with some companies making blatantly false advertisements. They simply pick a few things out of your profile in hopes you'll take notice. Once you click, you're treated to a page that will probably have you registering for a membership to something you'll never use.
A recent example is Prize-Rewards.net. Users clicking "like" on subjects like comedian Eddie Izzard were then treated to ads claiming that they could sign up to test the iPad before release. When they clicked, they were sent instead to the aforementioned site to sign up for some scammy looking rewards program to win awards for products like Netflix.
A bigger example is the type of ads being aimed at the gay community. In a recent study, Microsoft and the Max Planck Institute researched if Facebook targeted ads based on users' sexuality. The results were somewhat surprising: the ads didn't change so much when the user was a straight or gay female, but they did when the user happened to be a gay male versus a straight male.
Even stranger was the users didn't have anything on their profile to indicate they were gay. It was solely from the ads they clicked. In one case, a man clicked on a nursing school ad. Facebook targeted ads then decided he was gay!
Instances like these show why the program has a bad reputation. It assumes enough to be creepy when it comes to "knowing" users and their likes and character traits.
Tread Lightly
If you're considering using a Facebook targeted ad, it's best to learn from the above examples and try not to be so…well, creepy. Knowing that the program assumes much about Facebook users, try to make the ad as innocuous and inoffensive as possible. Making a divisive advertisement can lead to a public relations issue when the wrong people start getting it shoved in their face.
And for goodness sake, don't lie! Don't write copy that makes clicking your ad out to be, say, a way to get a free trial for new software and then make them jump through hurdles to get there, if at all. You may find yourself at the wrong end of a PR backlash!
This article is written by Mickie Kennedy, founder of eReleases (http://www.ereleases.com), the online leader in affordable press release distribution. Grab three free ebooks, including the Big Press Release Book and My Facebook Formula, here: http://www.ereleases.com/insider/freebooks.html