Is social media rising to the top or sinking to the bottom when it comes to advertising and marketing? It seems like you get a different answer depending on who you ask. Some say that it's on the decline, that people are beginning to realize there's no replacing a real live human. Others say that's ridiculous and there's no time like the present to jump on the bandwagon!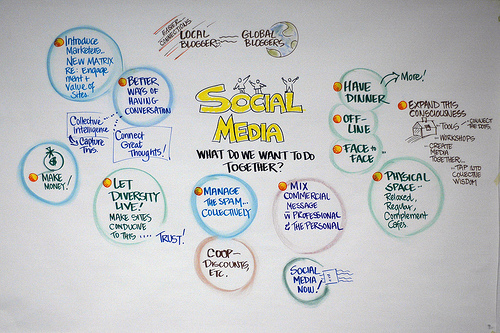 So who do you believe? Well, it turns out both parties may be right, at least in their own way.
The Rise
Clearly many aspects of social media on the rise considering the advent of brand new social media platforms every day. Most of these are very specific platforms, like OneClimate, which is a platform for not for profit/social change organizations and lovers. These randomly pop up and vanish all the time. The enjoy a wide variety of success, depending on how large the niche is they operate within.
There are also major releases like Google Plus, or G+ for short. Plus is expected to make a huge impact on the social media market landscape, taking on giants like Facebook and Twitter. As of this writing it's only been testing for a week, so the true power has yet to surface.
However, what Plus' release really means is there are still innovations to be found and untapped potential to be mined in the arena. Every day we see evidence that social media works when it comes to business practices, through major successes and even some massive communication failures. Can anyone really say the practice is in decline when so many businesses adopt it every single day?
The Decline
Usually when someone says social media is in decline, they don't mean the actual practice of it. I've seen it more accurately described as moving away from calling everything "social media this" and "social media that," and more towards streamlining social media into the rest of your marketing in one smooth stream.
When business social media first started, people were unaware of whether it was going to turn into just another way for companies to shill for their products. Little did they know, the denizens of the Internet wouldn't stand for that and businesses needed to be creative. This caused the current practice of creating social identities for otherwise faceless companies.
I suspect those saying social media is on the decline are rebelling against those last few remnants of the old type of online marketing. To really clear the way for the future, it's time for terms like social media to go away – when it all becomes marketing, there's no need to discern concepts like before. "Social media" becomes a thing of the past, and "talking to your customers like they are humans" is the future…like it should be!
Do you think social media is on the rise or decline?
This article is written by Mickie Kennedy, founder of eReleases (http://www.ereleases.com), the online leader in affordable press release distribution. Download your free copy of the Beginner's Guide to Writing Powerful Press Releases here: http://www.ereleases.com/insider/beginnersguide.html