Have you ever made a Twitter gaffe? Well, you're certainly not the first, and assuredly will not be the last! The important thing to remember is that mistakes happen, and your response to the goof is what really counts. This is none more evident than in the following five cases.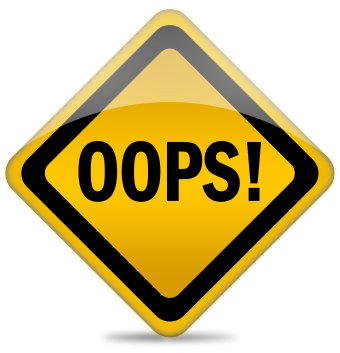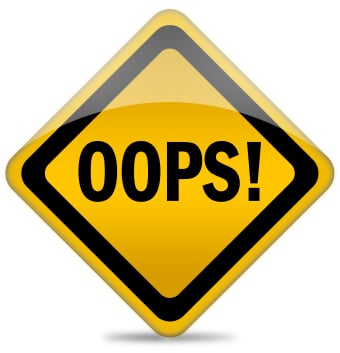 1. Red Cross
Late night on February 15th, followers of the worldwide philanthropy organization Red Cross received this timely update:
"Ryan found two more 4 bottle packs of Dogfish Head's Midas Touch beer…. when we drink we do it right #gettngslizzerd"
Needless to say, people were confused, and somewhat amused. Others were concerned if the account had gotten hacked, or if members of the Red Cross were too sloshed to know what was going on. It could've been a huge disaster.
Luckily, when Director of Social Media, Wendy Harman, found out about the gaffe she immediately jumped on it. Knowing a "stuffy" response might only exacerbate things, she asked a fellow employee to help her come up with something witty instead.
"We've deleted the rogue tweet but rest assured the Red Cross is sober and we've confiscated the keys."
Not only did the response elicit laughs instead of groans, it resulted in a big PR boost for the Red Cross. Donations went up, and the Dogfish Brewing Company even offered their support.
2. Al Roker
Discussing a case is against court rules. So, wouldn't you assume taking pictures of your fellow potential jurors to be a violation as well? Unfortunately, Today Show weatherman, Al Roker, didn't consider this when he not only snapped the pics, but posted them on his Twitter account!
The media went wild, but Al Roker defended himself by saying, "I'm not breaking laws…just trying to share the experience of jury duty. One that I think is important and everyone should take part in." The response led a spokesman for the state's Office of Court Administration to say while the pictures were "ill-advised," the experience showed even Al Roker has to go to jury duty, so everyone should be happy to perform their civic duty.
3. David Pogue
If even the super tech-savvy among us sometimes doesn't get it right, how are we expected to be perfect? New York Times consumer tech columnist David Pogue accidentally tweeted personal information to his 20,000+ followers, including his phone number!
Pogue later wrote in a column that he meant those tweets to be direct messages to a friend. He practically begged his readers and followers to "Have mercy… Please disregard my phone number!" And, not only did they all have mercy, they helped him delete the tweets, which was something he didn't know you could do!
4. The Governator
During the summer of 2009, California Governor Arnold Schwarzenegger was faced with massive state budget cuts. First, he asked his Twitter followers to send in suggestions on what to cut. Then, he thanked them in a video he tweeted…while he held a massive knife.
Of course, the joke was he was going to make the necessary budget cuts with the knife. However, many people were confused or offended, considering how dirt poor the state was at the time. The Governor simply said: "You sent someone a little bit more interesting, and who has a little bit more fun with the whole thing ─ not have fun making the cuts, they sadden me, but fun with the job itself."
5. Pete Hoekstra
Michigan Representative Pete Hoekstra is no stranger to Twitter controversy. After being ridiculed for comparing the Iranian Twitter activity during the election protests to twittering when Republicans were shut down in the House of Representatives, the Congressman tried to clean up his social media act.
However, when he traveled to Iraq in February of 2009, he accidentally put lives in danger when he started tweeting his current whereabouts! Luckily it was all swept up before anyone was hurt. Hoekstra's spokesman said the Congressman simply wanted to keep his constituents in the loop. He must've done something right, as he is now in talks for a Presidential run in 2012.
This article is written by Mickie Kennedy, founder of eReleases (http://www.ereleases.com), the online leader in affordable press release distribution. Download a free copy of the PR Checklist – a 24 point list of Press Release Dos and Don'ts here: http://www.ereleases.com/prchecklist.html