In online social networks, boundaries between work, family and friends are almost impossible to set and uphold. Should you maintain multiple presences and risk dividing your influence, or mix business and pleasure and hope you don't offend a friend or a client? Is it ever okay to blur the lines between personal and professional networking?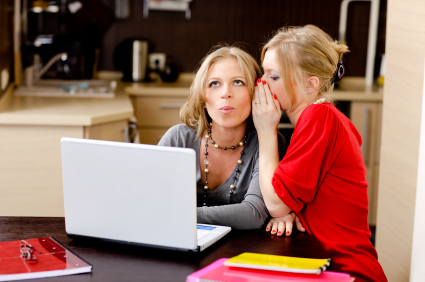 All Business
Some social networks clearly call for a professional approach. For example, your private life has no place on LinkedIn. Similarly, a company-branded Twitter account isn't the place for personal anecdotes. One Twitterstream that stays on-message without sacrificing wit or personality is @JetBlue, a corporate account with over a million followers.
Friend Zone
It's possible to set up semi-private spaces online. Twitter's @RedheadWriting uses multiple Twitter accounts to separate her identity as an individual from her identity as an adult advice columnist and her identity as a businesswoman. A Facebook account with tight privacy settings can also serve as a (relatively) safe space to interact with friends and family. Even in that environment, it's best not to say anything online that you wouldn't paint on the side of your house.
Blurring the Lines
In many online situations, there's no clear line between business and private life. A prominent presence in a thriving social network is a commodity for a PR professional. Clients will expect you to use your own social networks to plug them. Keep the following guidelines in mind when you use personal social networking connections for promotional purposes:
Always offer value. For example, if you're representing a chain of gourmet bakeries, you could ask foodie bloggers in your network if they'd like to sample some cupcakes.
Drop the expectations. If a blogger accepts your cupcake offer then posts a negative review or no review at all, do exactly what you'd do if you had that experience with a New York Times reviewer: Nothing.
Be honest. If you're endorsing a client through your personal networks, say so. Your friends will probably be more interested if you're honest, anyway.
No spam, no repeats, no begging. Don't send unsolicited private messages, don't repeat a pitch excessively and don't whine for retweets, upvotes, Stumbles or Diggs. Those behaviors lump you in with self-styled Internet marketers who are about as welcome in most social networks as flesh-eating bacteria.
This article, written by Jelena Woehr, originally appeared in PR Fuel (http://www.ereleases.com/prfuel), a free weekly newsletter from eReleases (http://www.ereleases.com), the online leader in affordable press release distribution. To subscribe to PR Fuel, visit: http://www.ereleases.com/prfuel/subscribe/.