There's been a lot of talk lately insinuating that the press release is dying out. I beg to differ. The fact is that the press release is still as important to your marketing plan as ever before. Its purpose and use is just changing a bit. But regardless of how you slice it, the press release is alive and kicking, and you'd be wise to make good use of it.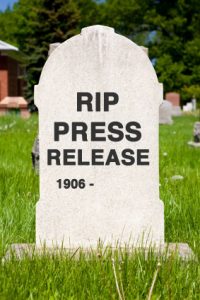 3 Reasons Why Press Releases Still Matter
Don't think the press release matters? Think again…
1. There are more people looking at them than ever before.
How many blogs do you think are active on the internet right now? Millions…maybe billions. And each and every one of those bloggers is looking for something exciting to write about. On top of that, you have multiple news sites like Yahoo and MSN with writers looking for good content. Where are they going to find it? Well, they could find it through a press release you send out…
2. There are lots of good press release sites out there that people actually visit.
Yes there are lots of spammy press release directories out there. But there are also good ones that reporters and bloggers do traffic. And the great thing is, many of these are free. What do you have to lose by putting up a release on one of these sites?
3. Press releases are still good for building links.
Content is still king. But for your content to be king, it needs to be well-written and diverse. One way to diversify your content is to write solid releases. Post them in reputable places, get a good back link, and you just bought yourself another vote to climb the rankings.
Playing the Devil's Advocate 
Now, don't get me wrong. I understand why so many people think that the art of the press release is practically dead. Typically, these claims all point back to one of the following:
SEO has watered down the press release. SEOs are great at beating dead horses. So as soon as they found out you could use press releases to link build, they immediately began abusing it. Rather than putting out press releases when their companies actually had news to announce, they started fabricating stories just so they'd have something to write a release about. In many cases, the press releases weren't really about anything at all. Just drivel. In others, they were about rehashed news that was no longer relevant.
To keep your releases relevant, you need to make sure you only write them when there is real news. Otherwise, people are going to stop reading them, and your press releases will be dead on arrival.
People think press releases are outdated. Many of the press release's detractors are convinced that they represent the information age of yesteryears. You know, back when newspapers dominated the news. Many people don't think that the press release has a place in a world where Twitter feeds and Reddit break news first.
However, the truth is that the digital release is still important. In fact, digital releases have become more interactive than ever before, with links to sources, multimedia bits, and more.
Think the press release is dying out? Let's discuss your reasoning!
This article is written by Mickie Kennedy, founder of eReleases (http://www.ereleases.com), the online leader in affordable press release distribution. Download your free copy of the Beginner's Guide to Writing Powerful Press Releases here: http://www.ereleases.com/insider/beginnersguide.html