Whether you're attending the "Arizona Cookie Baker's Convention" or the oh-so-serious "Science to Save the World Forum," conferences are one of the best ways to meet a large group of like-minded people all in one location. But before you step into the convention center, it pays to have a plan.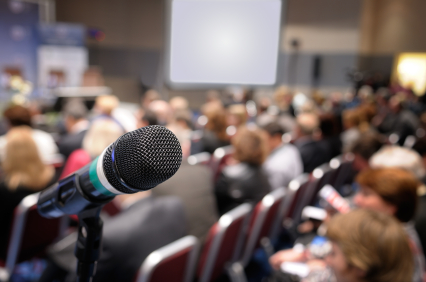 Here are a few tips:
1. Have a Goal – Maybe you've just started a blog and are thinking of attending the upcoming BlogWorld Expo in Vegas. But first, ask yourself why this event will be valuable to you. Do you want to meet and network with established bloggers? Attend panels and jumpstart your blogging success? Sell a product to other bloggers? When you have a goal in mind, you can tailor your conference experience to meet that goal. If you just wander in aimlessly off the street, chances are you'll see and do a lot, but to what end?
2. Prepare Your Elevator Speech – We all know what an elevator speech is and why they're important, blah blah. But be sure to tailor your elevator speech to the conference. If you're a social media expert, you won't need to explain what you do to a conference full of other social media experts. Instead, prepare an elevator speech with your overall conference goals in mind, even if that goal is merely to meet and befriend others in your industry.
3. Network with Attendees and Presenters Beforehand – Do you really want to meet one of the speakers? Whether you want to meet someone famous like Guy Kawasaki or a relative unknown, be sure to email them beforehand and tell them you're looking forward to their presentation. Even if the speaker is too busy preparing for the conference to personally answer your email, he or she will likely remember your kind note when you introduce yourself. You'll stand out from the crowd.
4. Have a Gimmick – Think of conferences you've attended in the past. Who do you remember? Is it the nameless, faceless attendees who diligently took notes during the panels or that one guy who was wearing the crazy velvet suit and neon yellow chicken head? Not all of us are going to be so dramatic, but some sort of gimmick – a funny t-shirt, an unusual giveaway – will make you stand out, and possibly even garner some press in the conference blogs and trade magazines.
5. Network Everywhere – Trying to meet someone at a conference panel is kind of like trying to get to know your date while at the movies. While the panels are interesting and informative, the real networking happens while standing around after panels, fighting over power outlets to charge your iPhone, or standing in the lunch line. Keep your smile in place and your business cards handy, and be ready to network in the most unexpected of places.
6. Follow Up – Conferences are frenetic places. After meeting 50 people in a single day, it can be easy to forget which business card goes with which face. Take an hour at night to do your due diligence – connect with people you met on LinkedIn or other social media, or email someone who you have found especially interesting. Be organized about your follow up, and you will come away with a whole slew of new friends, acquaintances and business contacts.
Nobody wants to drop money on a conference only to find that it was a waste of time. Keep these tips in mind to maximize your next event!
This article is written by Mickie Kennedy, founder of eReleases (http://www.ereleases.com), the online leader in affordable press release distribution. Download your free copy of 8 Shocking Secrets Press Release Distribution Firms Don't Want You to Know here: http://www.ereleases.com/landing3.html