Do you listen to podcasts on the way to the office, on the train, while exercising, or any other place? It's quickly became the thing to do when you have time to do something repetitive but don't have hands available, and the podcast marketplace has exploded. Some podcasts, like Nerdist and the Adam Carolla Show network, have even become empires.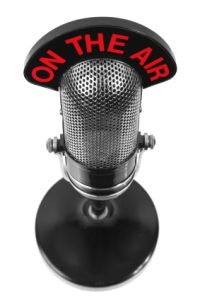 Of course not every podcast is that huge, so you might think the market size is very small. This may have put you off attempting to become a guest on some of your favorite podcasts or even some local ones. But getting to be a guest on any podcast is a huge deal, and you should take every opportunity seriously.
YOU Listen to It 
Before you discount any of the podcasts you listen to for having a small audience, think of this small fact: YOU enjoy it. Every time a new episode pops on iTunes or whatever you download it immediately and can't wait to listen to it on the way to work. So why don't you think others are doing the same thing?
I remember when I first started listening to this one parenting podcast. I thought it was niche enough that the audience would be severely limited. But it was funny, I related to their stories, and that was enough for me. It didn't matter if there were hardly any other listeners.
As you may have guessed, it turns out tons of people loved it. I remember being a little jealous when the guests started to pile up – I wanted to be on there, too! You just never know what audiences will respond to, and that includes podcasts.
Every Person Counts 
Discounting a local podcast or niche podcast becomes the audience might be "too small" is how small-minded businesses think. They apply this to other aspects of their business – is this customer too "small" to help with their problem? Should I worry about building up a Twitter profile because I believe the audience there would be too small?
Every person counts with your business, especially if you're starting out. You want to reach everyone you can who might be interested in your business. If that includes going on a local podcast that has maybe 50 listeners…that's 50 people who might check you out and buy something from you. Those 50 could also tell 5 of their friends, who tell their friends, and so on.
Straight Deal 
It's not often you get the real deal straight from the horse's mouth. You can write blog posts all day and post on Facebook, but there's just something special about hearing someone talk about something they are passionate about.
Your fans want to hear from you. Going on a podcast as a guest is a great way for them to get that experience. It's also even better than a regular video or message since it's a real conversation (if the host is good anyway). This allows the talk to go in areas you might not expect.
This type of openness can further endear your fans to you and your business. They get a real sense of what you're about and what you and your company represents. As long as you make that a positive thing your work on the podcast is accomplished.
If you could visit any podcast, which one would you be a guest on?
This article is written by Mickie Kennedy, founder of eReleases (http://www.ereleases.com), the online leader in affordable press release distribution. Download How to Get Your Company Covered on Top Blogs here: http://www.ereleases.com/offer/blogs.html