Are you constantly worried sick where your friends are? Wondering what restaurants your sister is frequenting? Then you need FourSquare immediately! In all seriousness, FourSquare can be quite a useful program for many reasons, not the least of these is finding ways to boost your business!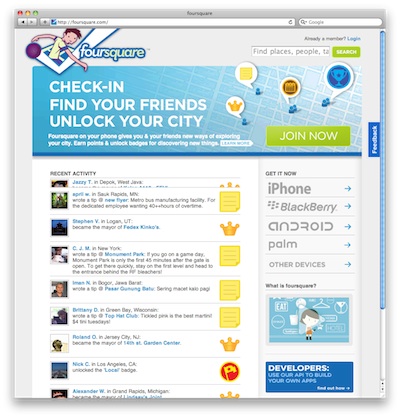 What is FourSquare?
Like the similar Gowalla, FourSquare allows its users to "check in" to a place of business or even a private residence. After they check in, they can post where they are on social media sites like Facebook and Twitter. Other users of FourSquare can see their status as well.
FourSquare's advantage over Gowalla is the designers have turned it into more of a "game" of sorts than just an application. Users earn badges by performing certain tasks – i.e. checking in at ten different venues gets you the "Adventurer" badge, checking in after 3 A.M. during the week gets you the "School Night" badge, etc. This collector's mentality helps inspire users to check in as much as possible to see what badges they can get. You can also become "mayor" of a location by having more check ins than anyone else.
How is This Useful for Business?
FourSquare is very useful for PR purposes as it does half your job for you. Each FourSquare user serves as a business' spokesperson when they check in and comment. Other users can see these recommendations and can check the place out for themselves. They then check in and potentially leave positive comments. The cyclical nature of the application can easily lead to tons more business.
FourSquare also lets businesses give users awards and coupons for coming and checking in at their place. They can be as simple as getting a free drink if you check in when you enter the restaurant, or complex like getting a free t-shirt if you stay the "mayor" of the establishment for a week. This really ups the game aspect of FourSquare and makes the experience fun, all while garnering very real dollars for businesses.
How Can I Take Advantage?
Your business or client can easily take advantage of FourSquare's unique social properties by making sure customers know about it! Signs or cards around your place of business or even on business cards can get the word out. Think of inventive new ways to utilize the coupon/award system that FourSquare offers; customers will continue to come back if they feel like they are working towards something. If your client is a spa, offer customers that have earned badges using the spa free or discounted gifts. The system depends entirely on your imagination.
Also make sure to use the free venue analytics application FourSquare offers. It breaks down everything from genders of customers to what time people check in most often. You can also see if people are posting to Facebook and Twitter about your business, giving you an idea what kind of business those social media sites might be driving your way.
This article is written by Mickie Kennedy, founder of eReleases (http://www.ereleases.com), the online leader in affordable press release distribution. Download a free copy of the PR Checklist – a 24 point list of Press Release Dos and Don'ts here: http://www.ereleases.com/prchecklist.html