Chapter 2: The Advanced Guide to
Writing Powerful Press Releases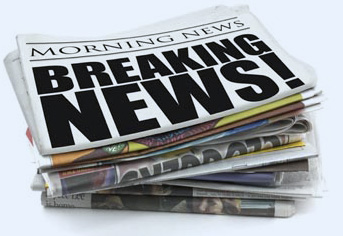 Standing out is more important than ever. According to Nathan Safran of Moz, 8 out of 10 people read headlines, but only 2 out of those 10 actually read the story.Bottom line: Your headline matters.
Think of the your headline as the front door to your release. You want it to be warm and welcoming. You want it to say, c'mon in reporters! Great story ahead!
No pressure, right? Well, no stress is necessary. Check out the following headline boosters, DOs and DON'Ts, headline examples, and swell tips to make your story as journalistically appealing as possible.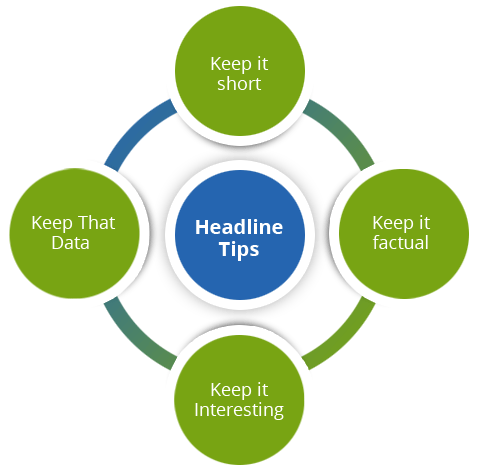 Make your title fit within 60-80 characters. eReleases has found that this is the optimal length for effective headline coverage; the more digestible a headline is, the better it will be received.
Bad :
Author Michael Burkear Documents His Fifteenth Journey to the Fairied Land of Atlantis in his Seminal Groundbreaking Novel 'The Lost Road of Forgotten Memories' Due Out This Fall Just As Soon As He Gets His Van Fixed (Transmission's Been Going For Some Time Now)
Better :
Author Michael Burkear Reveals Map to the Lost City of Atlantis
You want the headline to be simple, direct, and based on the facts. This is not the space to editorialize.
Bad :
Michelle Confirms that Facebook is Awesome at Making Her Miserable Sometimes
Better :
Depressed? Research Study Examines How Facebook Affects Users' Emotion
Humans love numbers. Want someone to read beyond your headline? Include some interesting data.
Bad :
YumYumBeenz Positioned to Have Positive Environmental Impact
Better :
YumYumBeenz Rescues 90,000lbs of Waste with Edible Cups
Bonus Tip: Write your headline first, and base
the rest of your press release around the title.
2. Headline Things to Avoid
AVOID: Sensationalism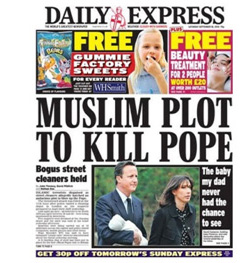 Sensationalist headlines are shocking! Exciting! Scandalous! Which is great, except they're often wildly inaccurate as well.
Avoid derailing a story's accuracy (and thus your legitimacy as a newsmaker) just to generate a little interest and frenzy. Reporters will see right through this. What's more, this is a news release, not an end-product news story: leave the sensationalizing to journalists.
Don't get me wrong: if you have a factually accurate headline that's going to turn heads, run with it!
However, if you're working on a story about YumYumBeenz Edible Coffee Cups and your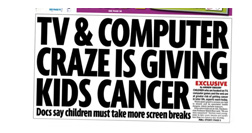 headline suggests life-or-death scenarios, perhaps you've ventured a bit far into sensationalist territory.
Image 1: https://www.kabobfest.com/wp-content/uploads/2012/02/Daily-Express-Muslim-Plot-to-KillPope.png
Image 2: https://images.vg247.com/current//2013/01/the-mirror-cancer-600×337.jpg
AVOID: Fluff
When talking about "fluffy" headlines, this just refers to subjective words that bloat a headline. Keep your headline objective, free from personal opinions, and free from generalizations.
Bad :
Men are More Talkative Than Women [generalization]
Better :
Researcher at NYU Reveals Men Talk More Than Woman
Bad :
The Popular Lexington BBQ Festival is Best in the World [subjective]
Better :
Lexington BBQ Festival Has Highest Attendance Rate of All NC Festivals
AVOID: The Sales Pitch
A press release is not a sales pitch. It's a story pitch. While your goal may be to increase your sales, and while a press release is one of your many tools as a means of doing so, remember that a release is never going to go straight from your outbox and into the paper. First it goes to a reporter who then chooses to write a story based on the facts and information in your release.
Don't sell journalists your product; sell journalists a story about your product.
I always change the radio station when I hear a commercial, and editors do the same thing with a sales pitch headline.
Bad :
Weekend TV Sale Extravaganza at TV World This Weekend Only!!
Better :
How to Buy a New TV Without Breaking the Bank
AVOID: Jargon
Jargon is specialized language for job fields, slang, etc.
Bad :
DuWayne Tech Unveils USB-Native Microfiche Slugstarter Compatible with NHRT Cram Modules
Better :
DuWayne Tech's Cellphone App Improves Ambulence Response Time by 67%
AVOID: Hyperbole
Stick to the facts, and please don't exaggerate. There's a fine line between creativity and hyperbolic bloat; keep it factual and you'll be fine.
Bad :
Killer Food Bug Hits Texas
Better :
Widespread Cases of Salmonella Hits West Texas
---
3. Headlines We Liked
For this section, we handpicked five of our favorite headlines from around the news circuit. We then took it a step further and explained why each headline is top of its class.
This is a good exercise for anyone looking to improve their own writing skills. Check out the section below and ask: Why does it work? How can it be improved?
LeatherUp.com 2008 Sales Explode to over $20 Million
This headline shows a major milestone for an online company, and the word choices works well. 'Explode' is a dynamic word, and the headline is short, simple, and direct.
Who's At Fault When Children Disobey?

Build a controversy with your headline. Make your readers do a double-take with an eye-catching question.
The Crimes We Commit Against Our Stomachs

Take the everyday and make it interesting. People will pay attention to information that they can relate to. This headline does just that.
Announcing… The New Edition of the Encyclopedia That Makes it Fun to Learn
The goal of the press release is to share news and announce what is going on. Make it stand out, like this example. The "…That Makes It Fun to Learn" enhances an otherwise boring headline.
24 Rules I Follow When Creating Successful Websites
Offer your readers something of concrete value. Numbers grab people. Lists are popular. It shows credibility and it offers the reader a desirable takeaway.
---
4. Headline Boosters
If you do not take anything else away from this chapter, hear this: Exceptional headlines offer value to the reader. Use your headline to convey the benefits of your story.
#1:
"How To"
Headlines
Headlines of this variety represent some of the most popular and shared items on social media and internet news sites. Thinking about doing a "How To" press release? Check these out for inspiration:
How to Turn Your Play Station Into a Living Room Media Center with WonderWire
As a bonus, tie your content into a "How To" topic for some magnetic attraction by tying practical and desirable together, like this:
How to Paint Your House and Save Time with PaintSaint
Spin the headline so that it shows how an everyday action can deliver an exciting benefit.
How One Dentist Has Detroit, MI Brushing Its Teeth for Cash
#2:
Headlines
for List-Style
Articles
List headlines are attention-grabbing, show expertise, and connect with your audience in a variety of ways. Here are some examples of solid headlines for list-themed releases.
Psychologist Maxine Roden Warns Against the Top Signs of Work Burnout
New eBook Discusses 101 Ways to Land Your Dream Promotion
Farm-To-Table.org's 10 Reasons Why You Shouldn't Eat Your Vegetables This Month
#3:
Invoke
Emotion
People feel before they think. To immediately involve someone with your headline, try going for the heart.
Lost Dog Reunited with Navy SEAL Lieutenant after 4 Years
Once Near Death, Now Closer to God
Priest stabbed in May recovers in body, mind, writes ebook
Never Shake a Baby – Even on an iPhone
App for new parents teaches important lessons
#4:
Tell Them
a Secret
This works because you're promising to share some specialized knowledge. It's the "Hey, I know something you don't know!" approach.
Meat and Potatoes: The Secrets of 5 Successful Vegan Chefs
MrsFixIt.com's Little-Known Ways to Renovate on a Budget
#5:
Make 'Em
Laugh
Sometimes the fastest way into the headlines is with, well, a funny headline.
Nice Work If You Can Avoid It

Author Cokey Shriver says Millenials are right to shirk the 9-5
Heeeere, Lizard, Lizard, Lizard…
Maryland Reptile Farm to host a benefit gala for its world class collection
Put Claire Voyant Down as a Reference
Psychic Toby Smith says more job seekers should seek telepathic help first
#6: Be
Controversial,
Contrarian
It's mean. It's dirty. But it works.
When you need attention – go controversial.
If you operate in a niche that is being heavily covered by the news, why not offer a viewpoint that goes against the grain? We'll cover more of this in Chapter 4, Quotes that Get Quoted, but it works just as well for headlines, too. Reporters always need a differing opinion, and being able to offer one makes your chances at news coverage that much better. So long as you stick to the facts, you'll be fine.
HealthyHands CEO says, "Ebola's a Joke. Here's Why…"
Final Thoughts on
Headline Writing
Remember, headline writing is like riding your bicycle. You hop on the seat, you fall off sometimes, but eventually you get the hang of it. You take the training wheels off and you soar.
Bookmark this page and come back to it any time you need to make your press release shine…and click below to grab our Headline Checklist.