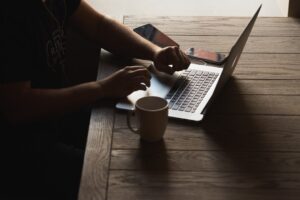 Did you know that over 80% of consumers say they trust recommendations from journalists more than advertising? That's just one reason why a strong PR campaign is essential for any business that wants to build credibility and attract customers.
Over 60% of consumers are more likely to make purchases from companies that deliver unique content. Over 80% feel more positive about brands after reading their content, too. Meanwhile, 94% will become loyal customers when brands offer complete transparency.
With a strong PR campaign, you can remain transparent about your company's growth. Each press release can benefit your overall business marketing goals, too.
Not sure how to get started? Read on to discover how to start using PR to grow your business today!
1. Establish Goals
Before following the rest of these steps, take a moment to outline your goals. Make sure they're SMART:
Specific
Measurable
Attainable
Results-Driven
Timely
When establishing each SMART goal, make sure they align with your overall marketing and business goals. Why do you want to start using public relations as part of your existing marketing strategy?
For example, maybe you want to generate:
Brand awareness/recognition
Brand trust/loyalty
Credibility as a thought leader in your industry
Investors
Website traffic
Leads and sales
Transparency
Stronger search engine rankings
A better ROI
Build strong relationships with the public
Reach a new audience
Make sure your goals are as specific as possible. For example, if you want to "generate more sales," consider what product you want to focus on.
A SMART goal might read: establish 20% more website traffic through PR by the end of the second quarter.
Once you determine what goals you want to accomplish, consider the key performance indicators (KPIs) you'll use to track your campaign. Tracking the progress of your campaign can help you determine if you're using effective tactics. If you're not reaching your benchmarks, you'll know it's time to make adjustments.
For example, you might need to reevaluate the distribution channels you're using. Perhaps you're neglecting to consider your target audience when writing and choosing publications.
During this step in the process, try to determine what might keep you from accomplishing your goals.
2. Determine Your Audience
Before you write and distribute your PR message, it's important to consider your audience. Who do you want to reach through PR? Determining your target audience will help you choose the right platforms.
Otherwise, you might choose distribution channels that don't appear in front of your ideal customers. If they don't read those publications, your press releases might not accomplish your goals. You'll waste time, money, and energy as a result.
That's time you could dedicate to growing your business or helping customers instead!
Before that happens, consider your target audience. If you're reaching a broad group, establish buyer personas. Define each buyer based on the demo- and psychographic research you gather.
For example, you might define customers based on:
Gender
Location
Age
Education
Language
Buying behaviors
Career
Income
Pain points
Interests
Hobbies
Online behaviors
Once you define your audience, learn more about their online behaviors. What publications do they read? Consider how often they check those publications as well.
Next, gather keyword research. Determine what search terms those customers use that are relevant to your product, service, or industry.
This data can help inform the rest of your PR writing and distribution strategy.
3. Identify Platforms
Once you define your target audience, you can look into platforms and publications.
How do your customers prefer to get information? Do they use TV, radio, or online publications? Consider:
Radio shows
Social media influencers/accounts
Bloggers
Newspapers (print and online)
Magazines (print and online)
Make a list of publications you want to connect with. Then, look into their guidelines. Many publications have their own press release guidelines you'll need to follow.
Neglecting to follow these guidelines might get your press release tossed out. Again, you could unintentionally waste time and money.
If you're unable to determine what platforms align with your target audience, look into press release distribution services. Working with a PR company can ensure a more effective PR campaign. In fact, these companies already have strong connections and professional relationships with journalists that can benefit your business.
Their professional relationships could ensure your press releases get published.
4. Learn How to Write Releases
Take the time to learn how to properly draft a press release. A basic press release template will include:
The proposed release date (or "For Immediate Release")
Your company's logo
The company press contact's information
A strong, concise headline
A dateline
The lede paragraph (including the who, what, when, where, how, why)
The body text
The boilerplate
An end notation ("#")
The press release should also feature branded imagery, a quote from a shareholder or relevant contact, and supporting details.
When writing your press release, make sure it's clear and concise. Try to avoid going over more than one page. Remove any fluff you find during the editing process.
Otherwise, you could risk losing the journalist's attention. If you lose their attention, they might not bother publishing the press release.
If you lack experience with PR writing, consider looking into press release writing services instead.
5. Optimize for SEO
Search engine optimization (SEO) can help your online press releases appear higher on search engine result pages (SERPs). Higher rankings will allow you to reach more readers. As more people click on the link to your content, you'll generate more website traffic.
SEO can also help you generate brand awareness, leads, sales, and backlinks. Backlinks are one of Google's top ranking factors. The more backlinks a page has, the more traffic it will generate via Google.
Backlinks appear on other websites (like a publication's website when they share your press release).
Use the keyword research you gathered earlier to determine what keywords are relevant to your press release. Then, include the target keyword within the content strategically. If you lack experience with SEO, look for a press release company that offers it as a service.
6. Create Pitches
It's not enough to learn how to write a press release. For an effective campaign, you need to make sure publications will release it. The first step to getting a press release published is to write a strong pitch email.
The pitch email will summarize what your press release entails while encouraging journalists to release it.
When writing your press release email, make sure it's clear, concise, and free of errors. Try to highlight an interesting and compelling angle you're taking.
Provide specific details, too.
It can take a lot of trial and error to write the perfect pitch. Instead of doing it alone, consider hiring a press release writing and distribution company. They can leverage their existing connections with journalists to help you publish your press releases.
7. Distribute
Once a publication accepts your pitch and press release, you can prepare for distribution.
It's normal if journalists don't respond to your pitch right away. After all, they receive hundreds of pitch emails daily. Try to remain patient.
In the meantime, focus on your own distribution strategy. For example, you can share your press release via email marketing, social media, and on your company blog.
Social Media
You can share your press release on social media twice: when you publish the release on your blog and when a publication shares it.
Include a link to the press release within the post. Then, write a compelling caption that encourages people to read it. Feature a relevant image within the post as well.
As people begin commenting on your social media post, respond back. Use this as an opportunity to engage with your audience. Answer any questions they ask and let them know you're available to help.
Company Blog Post
Sharing the press release on your own blog can benefit your SEO strategy. Make sure to include the target keyword in the:
Title
URL
Opening and closing paragraph
A header
The image alt text and file name
The SEO title and description
The SEO title and description will appear on search engine result pages. Make sure it's compelling enough that people click on it.
8. Build Relationships
Once you develop your PR strategy, make an effort to build lasting relationships with journalists. You can leverage those relationships when you need to publish a release in the future.
While this is a long-term approach, establishing relationships with a range of journalists can help your business over time.
9. Hire an Agency
If these steps are too complicated or time-consuming, consider hiring a PR agency. Working with an experienced team will save you time and money.
They can write, edit, and distribute press releases on your behalf.
10. Analyze and Adjust
Once your press release is published, make sure to review the data from all your efforts.
Consider how many people read the release (and which publications they read it from). Determine if you generated backlinks from each press release, too.
Reviewing the data can help you make informed changes to your campaign over time. For example, you might determine you need to use a different publication in the future.
Create an Effective PR Campaign Today
By following these 10 expert tips, you'll be well on your way to launching a PR campaign that not only gets noticed, but also drives real business results. Whether you're looking to build your brand, attract new customers, or establish yourself as a thought leader in your industry, PR can help you achieve your goals. So don't wait – start implementing these strategies today!
Without a PR campaign in place, consumers may never get the chance to learn about your brand. Before that happens, apply these PR writing and distribution tips. With a strategy in place, you can generate awareness, traffic, and sales with ease.
Remember, trying to develop a PR strategy without experience can take time, effort, trial, and error. You don't have to do it yourself. Instead, consider working with a PR agency this year.
Ready to get started? We're here to help!
Discover our pricing today to learn more!
Send A Press Release - Save 30% !