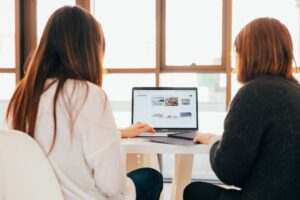 Demand for public relations firm services has steadily been on an upswing over the past five years. Within the United States alone, the public relations firm market now generates over $20 billion each year with 113,000 people employed within this field helping clients improve their public image.
However, as businesses move toward digital, more people than ever before are turning their focus toward web PR – potentially becoming even more important for business than traditional public relations methods.
On the other hand, digital PR strategies are still in their infancy – many businesses do not even know what web PR means or how it operates.
Early adopters could seize this chance and differentiate themselves from competitors by creating an effective digital PR presence. But what exactly is digital PR and how does it function?
Read on to discover all of the key aspects of website PR and discover its possible benefits to your company!
What Is Online PR?
In the early days, many believed that what took place online wasn't real – which may have been true at its infancy, when many still considered the internet an anomaly. Now however, people recognize its true power: PR Online
However, with the rise of internet usage comes an ever-increasing reliance on it and an online reputation can have lasting ramifications on real life reputations – this applies equally for businesses or other organizations as well.
Without an influential online presence, businesses struggle to connect with large segments of the population – this is where PR comes in handy!
Online public relations aims at cultivating positive associations for businesses on various digital platforms by producing quality content and spreading it among various channels on the web.
Online PR services often focus on correcting negative reputations for businesses online. There are techniques which make it harder for people to discover any damaging material about a company online; plus online PR firms assist by developing content which casts any existing negativity into a better light.
When businesses find themselves facing a public relations (PR) crisis, online PR firms can also offer invaluable help in handling it effectively and transparently. With their assistance they will be able to quickly react and address information that could undermine their brands quickly and promptly.
But how exactly can digital PR provide these and other services?
How Does Digital PR Work?
Different kinds of public relations campaigns utilise various online tools. For instance, businesses may need assistance creating engagement on their social media accounts to maximize exposure.
Online PR firms can leverage their expertise to foster greater public engagement. They can analyze social media metrics and help your respond to any fluctuations they detect; using success on one social platform as a springboard towards accomplishing similar results on others.
On the flipside, online PR firms can also assist businesses when negative news surfaces when people search for them online. Through powerful SEO techniques they can increase chances that users encounter more positive information when looking up a business using search engines.
Negative information will become less and less visible as search engine rankings evolve, decreasing its chance of being seen by many individuals.
Sometimes businesses require press releases for promotional use. You can find quality services online that specialize in writing press releases with maximum impact, though this service may also be provided by digital PR firms.
Benefits of Optimizing Your Online Image
Optimizing online images may become increasingly effective business tools as time progresses – even exceeding reputation in traditional media spaces! We are already witnessing some tangible benefits associated with investing in effective digital PR services.
Working With Web PR Firms Can Enhance the Credibility of Your Brand
Collaborating with an internet public relations (PR) agency can be helpful when looking to strengthen the effectiveness of your brand. When thinking of it from this angle, brands act like personalities for businesses; businesses want their brands to appear trustworthy so customers feel like they know them personally and form lasting relationships with them.
Of course, that means engaging customers online. When customers express an idea and see their response reflected back from a business, it makes them feel heard – the nature of that response determines the kind of relationship customers perceive they have with that entity.
Digital PR firms specialize in helping businesses respond to what customers express so as to build customer engagement, while simultaneously learning about optimizing language in response to brand requests so as to give the most powerful boost possible for brands. Hiring one may help future customers see your brand as more authoritative and knowledgeable.
Ask them to highlight other qualities you wish for them to exhibit with your brand.
Take Your SEO to the Next Level
One of the main advantages of online PR is how it boosts search engine optimization for businesses. In years gone by, businesses could appear on search engine front pages without much work being put in by themselves – now this may no longer be true!
Now more businesses than ever before are investing in SEO services; as more of your competitors implement digital PR tactics themselves, using professional digital PR firms could give your business the competitive advantage over its peers and significantly boost organic traffic to its website. With their help, organic traffic could significantly increase.
Acquire More Leads With Online PR
PR firms also assist businesses in email marketing efforts. In the past, spam email was so pervasive that marketing via emails became ineffective; but as spam filters have improved and people pay closer attention to emails again, email marketing may now work effectively again.
At the same time, email marketing best practices are essential in building positive relationships with recipients of email campaigns. Digital PR firms can assist you with creating effective emails to send to specific members of your email list – increasing leads that might eventually become sales.
Build Up Your Social Collateral
Today, social collateral online has never been more vital. Social collateral refers to your business's ability to make an impressionful statement with its online messaging; when your business possesses plenty of it, people may become interested in working together with it online.
Digital PR firms may promote your products or business in exchange for promotion themselves, which in turn may increase social collateral gathering for you and benefiting their own. Influential bloggers could potentially also help gain access to working together; digital PR can leverage any material generated.
Make Your Business Attractive to Investors
Businesses seeking funding often face difficulty convincing investors of their value proposition; but by engaging a public relations firm online PR firms can help generate positive attention, potentially drawing investors directly towards you.
However, you might still require speaking directly with investors in order to seek investment for your business – though convincing them may become easier once investors see that you have established an excellent online business reputation.
Increase Your Reach
Web PR firms initially may assist your company in reaching more of your current audience better; over time however they can use leverage your online presence and expand into further markets.
If there are top social media platforms where your presence is limited but which could yield new customers in large numbers, these could prove invaluable opportunities for expansion and sales growth – particularly if most of your competitors lack any presence there as well.
Experience Web PR Benefits for Years to Come
One of the greatest things about online public relations services is that its effects remain long after business with an agency has ended; SEO improvements and reputation enhancement will follow you long after all business between yourself and web PR partners is concluded.
Understanding Web PR
Many businesses are still exploring what web PR entails and its many potential advantages; as the world becomes more digitalized, online PR becomes ever more essential to business operations; investing time and attention towards this form of promotion may become essential over time.
Reach out at any time to us here, should you need any assistance creating effective online press releases! We're available now if we can be of service!
Send A Press Release - Save 30% !