Twitter Wonder Tactics
Harness the Power of Twitter for Pure Profit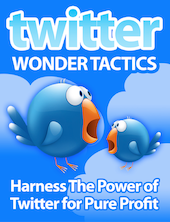 Leverage Twitter in your marketing efforts through strategic, easy to follow steps.
Chapters include:
The Power of Twitter
Integrating Twitter into Your Strategy
Building a Following
Mastering the Tweet
Using Twitter to Drive Traffic
Using Twitter to Serve Your Customers
Also features how to test, track, and improve your Twitter campaigns.
Download Free Report
Please make sure to enter your correct email address so that you will receive your free report.