7 Cheap PR Tactics for Success in Any Economy
Free Whitepaper With Marketing & PR Tips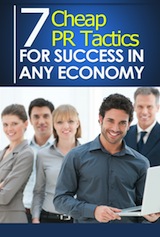 If your business is like others, you're constantly looking for ways to cut costs so you can survive a recession or downturn in your market. And you're probably looking at your marketing and PR budget, thinking it could use some serious trimming. In this report, you'll discover the 7 most effective, cheap PR tactics your business can put to use immediately. If you follow these tips just as they're laid out, you can spend less and get more results from your PR campaign than ever before. Maybe then, you won't just survive the recession, you'll thrive in it.
Download Free Report
Please make sure to enter your correct email address so that you will receive your free report.