Press Release Client Reviews: Learn How Customers Succeed
When several of us at the National Lampoon were laid-off, I posted us on eBay: For Sale – National Lampoon Comedy-Writing Staff.
And then I sent out a press release through eReleases. Without the press release, the stunt would have undoubtedly been lost forever, awash in a sea of countless auctions.
Thanks to eReleases, the ad received over a half-million hits. I would sit there, refreshing the page, watching the numbers go up and up on the page counter.
Suddenly, we were getting calls from around the world.
We did at least a dozen radio interviews, one in Canada, one in Ireland. The story was picked up by every major news source I can think of and plastered all over the internet.
Within a week, the prestigious advertising firm Foote Cone & Belding was calling us! And to top it off, that month we were featured in the New Yorker's "Talk of the Town."
Thanks eReleases! Nothing could have been easier or more inexpensive to use!
Over 30 years we've used different press release services, and I've had nothing but difficulty. Service not on time, then being hounded to buy more. Just never satisfied. Now, after discovering eReleases, they've blown every other service out of the water. This is the one I'm sticking with.
Father reunited with abducted sons—missing for 1-1/2 years:
Thank you and eReleases for your help! I would not have been able to reunite with my sons without the professional coordination and kind help. The press release helped rally many people in helping me locate my children.
Despite using various advertising venues over the past 1-1/2 years, the day my eReleases press release ran, my book jumped to its best ranking on Amazon in the 22 months it has been out, and there seems to have been a domino effect by achieving that high ranking.
Before doing a press release I had doubts – like are journalists really going to see these press releases or are they just going off into the abyss? I found that eReleases was really invested in the success of their customers. My business has been picked up in magazines and on TV and radio [including Huffington Post, Cosmopolitan, Daily Mail, Yahoo! Lifestyle, Philadelphia Inquirer, and more]. eReleases will help you get your company in the news every step of the way.
eReleases is the best kept secret in PR. Amazing results and a great team!
I use eReleases when I send out stuff and I've got contacts from major magazines and newspapers as a result of doing that and I would like to strongly suggest that you take a look at Mickie Kennedy's company and see what it is that they do.
They're very good at it. They also have an editorial staff that looks at what you're doing and makes sure it's right before it goes out.
They've saved me from making a few mistakes so check these folks out and I do definitely give them a high endorsement.
Love eReleases they are truly the best!
We already got picked up by a major news television show!!
I have been consistently pleased by the service provided by the eReleases team — and by the company's overall business model. I am happy to endorse and recommend eReleases.
Amazing chatting customer service even before acquisition of the product.
They worked on our PR without any guarantee that we would enroll!
I rarely take the time to share my experience with other b2b vendors, but eReleases has blown me away in the last few weeks. We were evaluating services for a press release and decided to use them for a host of practical reasons, but what really stood out in my mind was their family-style approach to service.
There are no salespeople who will call you before you can get your release out, but they (main contact was Janelle) were ultra-proactive through phone calls and emails to make sure I was happy with the service and to update me on how the release was doing. Not annoyingly so, but just enough so I knew there was someone I could connect with if I needed to.
Then I unexpectedly received this book in the mail on optimizing PR and a personal letter from their team. I love it. That is dedication to customer service. And they never asked me to spend another dime.
I highly recommend.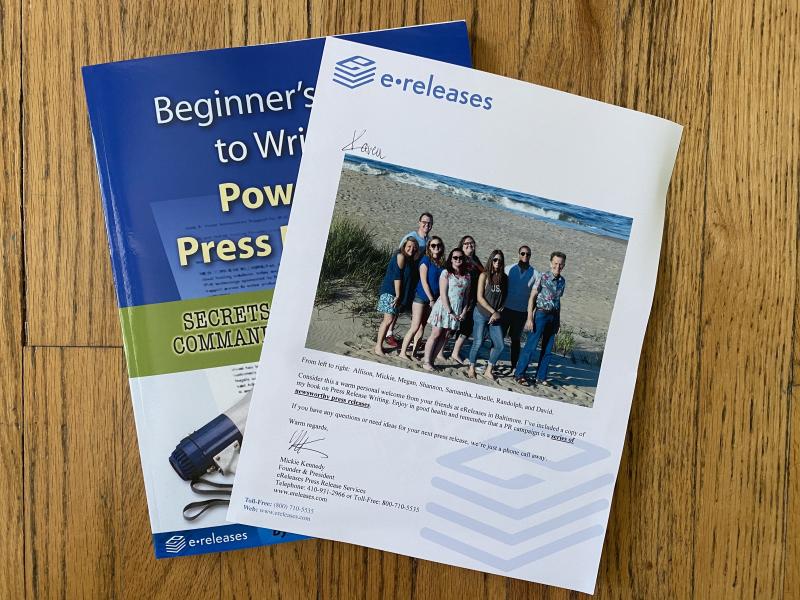 Always simple and accurate, plus love the "human backstop" to the uploading front-end.
They really make sure it looks good, and suggest alternate headlines & captions to improve readability.
Great service.
My last order helped sales.
Thank you eReleases!
eReleases is the best PR distribution company I have worked with in 30+ years.
They are totally reliable and responsive and their order process is easy and efficient.
Perfect. Our last release was very successful.
Generated a public radio interview also. Thanks.
I love eReleases. I have found that they have the best results of any service online for the best price. Mickie and his team go above and beyond with customer service and I love that I can see that my release is actually read by members of the media.
Thank you for your help in getting our news in front of more people!
My first press release with eReleases got me coverage in approximately 13 different publications, as well as a possible segment on a local television show!
As a result of my very first press release with eReleases, I received 10 new clients, and approximately 4,200 website hits!
eReleases is the best in the business as far as I am concerned, and therefore they have no competition! They offer the best prices and the most "bang for your buck."
I would recommend this service to anyone with a new business looking to gain exposure locally and nationally — or even internationally!
Literally within minutes of our very first eRelease being put out on the wire we began receiving media requests for interviews and received coverage online, in print, and on television!
I could not believe the extent and quality of the response!
As a direct result, our internet presence increased more than tenfold, and we are still getting customers months later with no further effort on our part.
Working with the eReleases team was easy and I especially loved the tool that showed us where and who had picked up our release. Bar none, this has been one of the best investments we've made in growing our business!
We submitted a press release with eReleases on behalf of one of our authors.
Within 2 hours of the release going live, our author was booked for a radio interview and he was later asked to contribute (ongoing) to a monthly "expert column" in his industry.
Talk about free PR!
As a result we have secured coverage on ABC, NBC, MSNBC, and gotten covered in the Washington Post to name a few.
Great way to publicize any news. Our website clicks sky-rocketed by thousands … increasing 200% from pre-release statistics.
eReleases has been the most reliable source of distribution for us, where we are confident that the word is getting out to the necessary outlets.
I have not felt that confidence with anyone else.
Thank you dear friends for your efforts.
We already have a huge story in Variety thanks to you getting the press release out.
It's really great for us!
I do a lot of business with companies in the US (I am based in Tokyo), but this is the FIRST time that any service provider has actually called me overseas. They were friendly, efficient, and personal. This, as much as the quality of their products, is the reason I have decided to do business with them going forward.
As an award winning publicist I have tried many release distribution channels over the years.
NONE compare to the eReleases product and GREAT customer service.
It does not get any better.
Not having used a press release service before, I was a bit uneasy about making the choice between several other competitors of eReleases.
To my relief and delight, they made the entire process very simple and the results were very impressive.
On our first release, we got the attention of several key media outlets, two of which went on to do editorial features about us. Great experience so far.
I have had a fantastic experience with eReleases!
I have had some write-ups about my novels. You do have to issue press releases each month to gain the exposure you need.
It does work but you have to be prepared to stick to a good plan using well written releases and do this for at least a year or all the time if you have the money to gain the exposure for your company.
As an independent author I am now starting to reap the rewards of my press release plan. I am very happy.
I kicked off a press release campaign that involved 1 press release a week for 10 weeks.
I used a different service for each release to see, A) which gave me my best bang for the buck and B) which was the least painful to use.
eReleases was my favorite of them all. They have been my go to provider since then.
I can't say enough about the customer service and how good it feels that there is a real person out there making an effort to help me push our press releases. To the whole eReleases team, thank you!
As I said in our news piece about eReleases, the truly great thing about you guys is that you really care about your clients. That's so nice, a great comfort and quite rare in these hectic times. Really well done!
I'm already planning the next release. With the current release being the foundation of our strategy, I think it's important that I keep 'em rolling.
When I launched my website, I did a press release with eReleases.. They walked me through the process and helped me with my headline. Then, after the press release was out there, I got published on sites like Yahoo Finance, and I got a report from them that included the stats of the press release. They also contacted me to make sure everything was good.
Honestly, it's been the best investment I've made in my business just from the rankings and the traffic alone. I couldn't recommend them highly enough.
In the three days since the press release was sent, we've received five media inquiries, one of them a call with the executive producer of a national morning TV show.
In addition to going through the PR Newswire portal, I feel that your guidance was a huge value add.
Getting eReleases' value along with the power of the PR Newswire distribution engine is the best of both worlds.
First let me say that the performance of your staff in assisting me in getting the press release in top form for distribution was outstanding. I didn't expect to get copy support for the price so when I got the call from Amanda with some suggestions to improve the press release, it was a very nice and welcome surprise. I had every suggestion incorporated and I believe that they certainly contributed to the success of it.
And, a success it has been – two hours after the distribution occurred, I had a call from a business editor at Hearst Media's Connecticut office, proposing to do a feature article in the Hearst CT outlets – CT Post, Stamford Advocate, Greenwich Times and Danbury News-Times.
A feature article then appeared in all of the foregoing local newspapers the next day, using most of its material directly from the press release.
I also greatly appreciated the follow-up "Ideas" letter that you sent. Your market positioning suggestion is precisely aligned with our own outlook and the ideas for successive press releases were very useful.
My experience with eReleases was ABSOLUTELY AWESOME!
Not too long ago, I used another press release company and was "somewhat" satisfied with the results (seeing how it was my first dealing with a press release company), but you guys knocked the ball COMPLETELY out of the park.
After about a week, I am still amazed at the amount of exposure I received from your company.
Needless to say, eReleases has a new regular.
Keep up the EXCELLENT work!
I am very excited to have gotten the first one out the door. Here is the result of the first release – an article in "Financial Advisor"!
Thank you for your help!
Great job by everyone on your end!
264 pickups already, and 2 phone interviews!
Did you see today's coverage??? Honestly – I was shocked…
[A feature article in Advertising Age, the go-to trade publication for the advertising industry.]
I'm pretty pleased with the surprise.
Actually the press release worked really well. It created a busy day… Good problem to have. Phones rang a lot this morning.