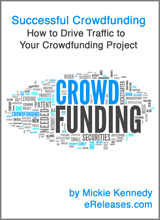 The idea behind popular crowdfunding sites like Kickstarter, Indiegogo and Upstart is to level the playing field for every person with a dream.
Chapter highlights include:
Finding Your Crowd
Gifts, Equity, Rewards
Making a Video
Pitching Bloggers
Social Media
The Press
Success Stories and Sage Advice
Download Free eBook
Please make sure to enter your correct email address so that you will receive your free ebook.
About Us: eReleases offers access to the national newswire used by Fortune 500 corporations at a fraction of the cost.
We deliver personal service and exceptional value to every customer, every release, at every price point.
We respect your email privacy.