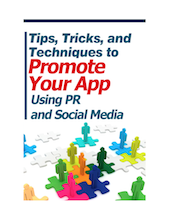 Chapters include:
Boom or Bust in the Wild, Wild World of Apps
Why PR and Good, Old-Fashioned Story-Telling Matter in Promoting Your App
7 Ways to Promote Your New App
How to Promote Your App Using Social Media
There's a Press Release for That
Also features a case study for a successful press release campaign for an iPhone app.
Download Free Report
Please make sure to enter your correct email address so that you will receive your free report.
About Us: eReleases offers access to the national newswire used by Fortune 500 corporations at a fraction of the cost.
We deliver personal service and exceptional value to every customer, every release, at every price point.
We respect your email privacy.