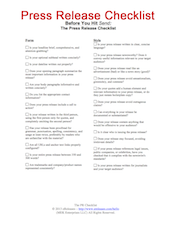 Use this PR Checklist before you send your next press release.
Report features:
What must be included in your press release
What to eliminate in your press release
First person, second person, third person – which is the appropriate voice?
What's the best length for your press release?
And much more – 24 points in all
Simply sign up and you'll immediately receive the free 24-point PR Checklist.
Download Free Report
Please make sure to enter your correct email address so that you will receive your free report.
About Us: eReleases offers access to the national newswire used by Fortune 500 corporations at a fraction of the cost.
We deliver personal service and exceptional value to every customer, every release, at every price point.
We respect your email privacy.