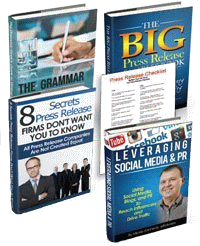 Hone your PR skills with these valuable PR tools, publicity tips, and press release resources.
The bundle includes:
8 Secrets Press Release Firms Don't Want You to Know
The Big Press Release Samples Book
Press Release Checklist
Leveraging Social Media & PR
The Grammar Geek's Guide to Writing Press Release
Download Free eBooks
Please make sure to enter your correct email address so that you will receive your free ebooks.
About Us: eReleases offers access to the national newswire used by Fortune 500 corporations at a fraction of the cost.
We deliver personal service and exceptional value to every customer, every release, at every price point.
We respect your email privacy.