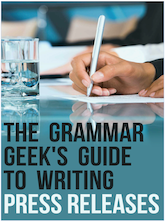 By following press release standards, you increase the odds that people will take the time to read your press release. That's the purpose of this entire ebook.
Chapter highlights include:
The Right Way to Format Your Press Release
Why Spelling and Grammar Matter in Press Releases
Getting Better Press Release Quotes
6 Tips for Editing Your Releases
Download Free eBook
Please make sure to enter your correct email address so that you will receive your free ebook.
About Us: eReleases offers access to the national newswire used by Fortune 500 corporations at a fraction of the cost.
We deliver personal service and exceptional value to every customer, every release, at every price point.
We respect your email privacy.