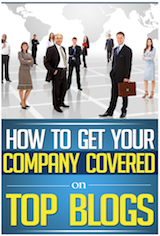 Bloggers are influencers with an active community of followers that you can reach, generating buzz and website visitors.
Chapter highlights include:
The Difference Between Bloggers and Journalists
4 Tips for Determining Which Blogs to Target
Things to Consider When Pitching to Bloggers
How to Build Relationships with Bloggers Before You Pitch
Download Free eBook
Please make sure to enter your correct email address so that you will receive your free ebook.
About Us: eReleases offers access to the national newswire used by Fortune 500 corporations at a fraction of the cost.
We deliver personal service and exceptional value to every customer, every release, at every price point.
We respect your email privacy.