Ever had a tough question you just couldn't find the answer to? The age of wondering is soon to be no more, and it's all because of  a big little website called Quora. The website and service is quickly gaining steam as THE place to go when you just can't find the answer to life's deep (and usually, technical) mysteries. There may be some practical business uses for it, though, if you're willing to give it a shot. But first, let's learn a little about it.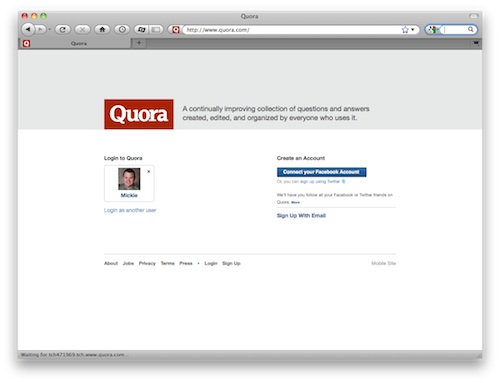 What Is Quora?
Quora is a question and answer database co-founded by Adam D'Angelo, the former Chief Technical Officer of Facebook. Users post a question on the website in hopes of it getting answered. Other users seek out the questions and answer to the best of their ability.
Often, the answers come from the most knowledgeable of people. For example, one question pertained to the accuracy of the Facebook movie, "The Social Network." It was answered by Dustin Moskovitz, co-founder of Facebook.
While the site started out as invite-only, Quora is now open to the public. It's gotten not only a lot of buzz but a lot of money from folks like Benchmark Capital. It remains to be seen if the high quality of professional answers to questions will stay intact as more users join the service.
How to Use It
It may seem there is a limited use of possibilities for business use when it comes to Quora, but there are in fact a few things you can do. First, try to become a question answering fiend. If you have a particular area of expertise, seek out those questions to answer.
Say your business is focused around snow globes. Try and locate any questions on Quora related to the nature of snow globes. This includes glass blowing, miniature models, and maybe even fake snow production. What this does is gives your readers a sense that the brains behind your business are experts in their field. When they look your store up, they know the snow globes they are buying are probably among the best in the biz. But make sure you know the correct answers to the questions!
The next thing to do is post some questions of your own. They can be technical questions or more philosophical. For instance, you can ask users about the specifics of making bases. Or, you can get sillier and inquire what everyone thinks what was really going on with those snow globes at the end of St. Elsewhere and Cemetery Man!
Using Quora to ask and answer questions can expand your customer base and get the word out on your business. It also lets people know just how knowledgeable you are in your area, which then reflects on your product, service and your personal brand. If you're the one with the answers, take advantage of this up and coming website today.
This article is written by Mickie Kennedy, founder of eReleases (http://www.ereleases.com), the online leader in affordable press release distribution. Download your free copy of 7 Cheap PR Tactics for Success in Any Economy here: http://www.ereleases.com/7cheaptactics.html