The keys to success with social media are many. Instead of just having to use one to unlock a door, you're required to use many for one lock! One door might need the "build relationships" key as well as the "do proper research" key to unlock. Another door requires the "learn SEO," "build a community," and "hire social media manager" keys before it opens!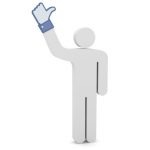 However, the prizes behind these doors make the effort and key searching well worth it. Whether you've already acquired a few of these or are just starting out and need some motivation, knowing what the end result is can be very helpful.
Deep Loyalty with Your Customers
This is one of the biggest doors you can unlock, and it may require most of the keys you have on your social media key ring. These keys include "branding," "tweet useful info," and "inspire confidence," among many others.
Loyalty from your customers can result in long term ROI and steadily increasing revenue. However, it's not all about money. Brand loyalty might also mean forgiveness in the face of a goof or scandal. Also, they can be your gateway to future loyal customers when they tell all their friends and family about you.
Better Reputation
For this door, you'll need keys like "respond to gripes on Facebook," "donate to charity," and "have a back-up plan in case of a disaster." Behind this door lies the opportunity to be better known throughout the world (or at least your community) as a reputable business. When the general public sees how well you handle a crisis or everyday questions and complaints, it will eventually strike them that you treat customers like each one is a treasure.
When that happens, the public will become confident that when they deal with you they will get a satisfactory customer experience. From the moment they enter your shop or log onto your website, all their needs will be met. Confidence in your business's willingness to always do the right thing can quickly translate into money in the pocket.
Become a Brand
Do you really want your business to be known for your product? When people think of custom made pencil toppers, you want them to think of YOUR custom made pencil toppers. If this is the case (and it should be!), then you'll need social media keys like "perfect your logo," "decide on your values," and "get creative!"
Branding is more about a "feeling" than anything you can put your hands on. Wal-Mart's "brand" is low prices. Disney evokes a feeling of family fun and entertainment. Whenever a business attempts to "rebrand," it's trying to get away from the associations people had before. Take Comcast, for example – they were consistently called one of the worst customer service companies in the world, so they attempted to rebrand with the Xfinity brand.
Creating a brand isn't simple, but if you can pull it off, people will associate your business with a certain feeling or aura. To fulfill that side of themselves they will head to your front doors and buy away. To achieve all this, you simply need the right keys!
What keys to social media success do you currently hold?
This article is written by Mickie Kennedy, founder of eReleases (http://www.ereleases.com), the online leader in affordable press release distribution. Grab three ebooks, including My Facebook Formula, a free report on Facebook and why you should be using the largest social network for your business, here: http://www.ereleases.com/insider/freebooks.html