Stories sell. It's that simple. Since the beginning of marketing as we know it, storytelling has been employed to attract interest, connect with consumers, and motivate them to take action. Just consider arguably the 2 most popular sales letters of all time: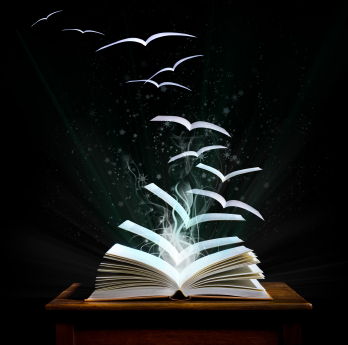 They laughed when I sat down at the piano, but when I started to play! – Perhaps the most effective headline and advertisement ever written, this sales letter was written to promote mail order music lessons from the U.S. School of Music. If you read the ad, it reads like a short story you'd expect to find in a book, not like a typical "my product is so great, look at me!" advertisement.
Wall Street Journal "Two Young Men" ad – In this sales letter for The Wall Street Journal, a story is told about 2 seemingly identical young men who graduated from the same college, went on to get married and have kids, and worked at the same company. The difference? One was president and the other just a manager of a small department. The ad goes on to say that the knowledge the man acquired from The Wall Street Journal helped him be more successful.
Both of these ads were used with great success for years and years. Heck, there's a good chance you may have received these letters in the mail at some point.
The reason they worked so well is that people love stories. Storytelling dates back to long before there were products that needed to be marketed. History was passed down from generation to generation through the sharing of stories. The Bible is a collection of various author's stories. You've probably even heard a bunch of stories about your family's history that you'll pass down to the next generation.
Stories are the reason we watch TV, go to the movies, and read. A compelling story can suck you in and demand you read it to its completion. And if you can harness that for your marketing efforts, you have a very powerful tool that will get remarkable results.
But simply telling a story about your product won't guarantee success. Just like not all TV shows, movies, and books are good, not all advertising stories are good. There are some simple rules for telling powerful stories in marketing.
Your customers need to be able to relate to your story – Go back to the 2 examples I posted above. Everyone can relate to the moments of social awkwardness like the one described in the "Piano" ad, and we all know what it's like to compare your accomplishments to others (ever been to a high school reunion?). Tell a story that your customers can connect with.
The story needs to clearly explain the value of your product – If your story doesn't make the reader understand what your product does and why it's so remarkable, you haven't done your job as a storyteller. Remember, the end goal of storytelling in marketing is to get the reader to take an action (e.g. request more info, buy now, etc.).
The best stories are easy to remember – Think about the last time a friend told you a good story. You probably told a few other people about it, didn't you? A good story is one that can easily be passed on from person to person. It's memorable and simple to understand.
Do you use stories in your marketing and PR efforts?
This article is written by Mickie Kennedy, founder of eReleases (http://www.ereleases.com), the online leader in affordable press release distribution. Download a free copy of the PR Checklist – a 24 point list of Press Release Dos and Don'ts here: http://www.ereleases.com/prchecklist.html