If you've followed this blog, you know that I'm a firm believer in committing to a regular press release distribution strategy. I think all companies can benefit from publishing new stories on a regular basis as it increases the chances of getting media coverage and builds trust with their customers.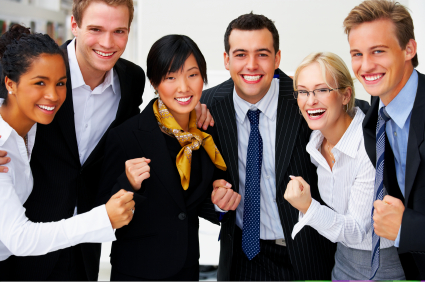 But when you publish press releases on a regular basis, it came be hard to keep coming up with fresh story ideas. In the past, we posted a huge list of press release topic ideas, but even with all these ideas, you may still be suffering from a case of writer's block.
One reason you may be having difficulty coming up with an idea for your next release is that you're only looking at your company as a whole. You're thinking about things your company has done or problems that your products have solved. And while these are good places to look for story angles, there's a chance that you may have exhausted all your current company stories and that you haven't done anything relevant recently.
That's why it pays to get to know your employees. Employees can be powerful sources for press release ideas. Each employee has a unique story, and one of your employees just might be the perfect subject for your next press release.
Here are some common ways you can feature an employee in your next release.
Awards and certifications achieved by the employee – Let's say you run a graphic design company and one of your employees gets nominated and wins an industry award for one of his design campaigns. This is an excellent opportunity to turn the spotlight on the employee because his success is your company's success. Whenever an employee does something great, it reflects positively on your entire company. So, highlight your employee's achievements whenever you have the chance.
An employee's involvement in charity work – Are any of your employees involved in volunteer projects after work? Do they donate their time to a certain cause? Maybe one of them is even a volunteer firefighter. Get to know your employees so you can find out these things. This could be a great opportunity to humanize your company.
Inspirational stories of an employee's life – Like I said earlier, every one of your employees has a unique story. They come from all sorts of backgrounds, and some may have even overcome huge challenges in their life to get to where they are today. Human interest stories can help consumers better connect with your brand as they make you look less like a company and more personal.
Promotion of a key employee – No, you shouldn't write a press release every time an employee gets promoted, but if the promotion is to a truly significant and high-ranking position within the company, a release may be justified.
News of the weird involving employee – Have your employees been involved in any strange, funny news? Hopefully none of them have been threatened to get tasered by a psycho customer, but you might be able to dig up a strange story with a truly unique, attention-grabbing angle.
Do you feature your employees in your press releases?
This article is written by Mickie Kennedy, founder of eReleases (http://www.ereleases.com), the online leader in affordable press release distribution. Download your free copy of 7 Cheap PR Tactics for Success in Any Economy here: http://www.ereleases.com/7cheaptactics.html