Engaging with readers is essential for building a successful blog. In fact, it's engagement that sets blogging apart from the more traditional forms of information sharing, and that's exactly why blogging has become so popular. So, if your blog lacks the interactive component, you're limiting the impact you could have on the social media space.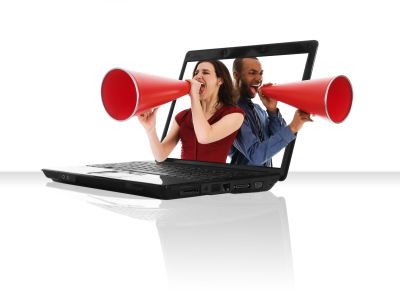 Why is it important for your blog to be interactive?
Build relationships with your audience
Improve your image through positive interaction
Increase reader loyalty
Add a personality to your brand
Learn more about your target audience
Provide readers with content they truly crave
Tips for Making Your Blog More Interactive
What can you do to create a true community around your blog? Here are some helpful guidelines for being a more interactive blogger.
Allow comments. It still surprises me when I see blogs that don't allow comments. What's the point of having a blog if you aren't going to allow readers to comment on your posts? It makes no sense to me. Comments are just as important as the actual posts. That's what's so great about blogging-both the author and the readers have a voice.
Respond to comments in a timely manner. Look, you don't have to respond to comments the second they come in. If you did, you'd never get anything else done. However, I do recommend setting aside time each day for approving comments and responding to them. Why? Because if you wait too long to respond, the conversation has already died down and the readers are off doing something else.
Accept guest posts from readers. I've always believed that accepting guest posts on your blog is very beneficial. Not only does it give you a break, allow you to network with other bloggers, and offer fresh content to your readers, but it can also give your readers a sense of ownership in your blog. When you allow your best readers to submit guest content, they feel like you value their opinion, and they become more loyal to your blog.
Have surveys and poll questions. TwtPoll is an easy-to-use tool that allows you to embed a poll or survey into your posts. You can use this to get readers' opinions on certain topics, and it's helpful for making those casual readers who don't want to comment participate more easily. You can even use polls to have readers vote on certain topics they'd like to see you cover in your blog.
Make it easy for readers to contact you. Sometimes, your readers will need to ask you a question or want to engage in a discussion that isn't suited for the comments section. You should make it easy for your readers to get in touch via email. Whether you post a contact form on a page on your blog or publish your email address, letting your readers contact you adds another layer of interactivity to the blog.
Connect on other social media. There's a good chance many of your readers are on Twitter, Facebook, and other social media sites. Engage with them on these sites. This can help take your relationship to an even deeper level as you get to know more about one another. This helps establish a rapport with the reader, which can lead to many future benefits. Place a Twitter badge on your blog so readers can connect with you in a single click.
What are some other easy ways to make a blog more interactive? Share your tips by leaving a comment.
This article is written by Mickie Kennedy, founder of eReleases (http://www.ereleases.com), the online leader in affordable press release distribution. Grab your free 160-page copy of the Big Press Release Book – Press Releases for Every Occasion and Industry here: http://www.ereleases.com/insider/bigbook.html