The winter chill is soon to melt into the warm breezes of spring, which means it's almost time to start spring cleaning duties! But spring cleaning isn't just good for your house and family, it's also a great practice for your business.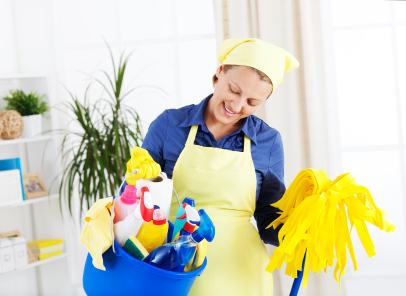 Just like knick-knacks and dust bunnies in our living room, we accumulate things in our business that we don't necessarily need, and are sometimes even detrimental to our health. Come springtime, it's time to sweep them out from under the couch and out the door!
But it's not quite springtime yet, you say. And that's true. However, you can start planning for spring cleaning now so the actual act is much easier when the weather turns.
Pinpoint Weak Spots
One of your first tasks in preparation for spring cleaning is to find exactly where you're running a little short with your business. If there's something you feel is holding you back, take a look if you really need it. If not, toss it out with the dust bunnies.
For instance, it's easy to get bogged down with unnecessary paperwork or clients who aren't really worth your time. We get stuck in rituals that make us nervous to break out of,  as if our business will fall apart without them.
Guess what? It won't. That one client that you spend so much time on but hardly pays you? Time to dump them. The weekly reports nobody pays any attention to and doesn't seem to help anybody with their tasks? Get rid of them. Streamlining the process can mean great things if you just give it a try.
Organize
Of course spring cleaning isn't just about throwing stuff out the door – it's also about organizing your life! Now that you've gotten rid of some stuff in your business, it's time to get everything else in order.
You're bound to have thought at some point over the year that parts of your company need to be more of a well-oiled machine. It can be accounting, customer service, social media, public relations, whatever – if it's not up to par, time to get it going again.
Social media in particular can easily be reorganized to be more efficient. Are you still manually logging in to your separate accounts on Facebook and Twitter and posting from there? Download a client like Tweetdeck or get an account at CoTweet and start doing everything from one platform. This cuts down on time and energy and frees you up for other tasks.
Also, if you're scouring the Internet looking for material every morning for your Twitter feed, take some time to get your Google Reader feed under control. Organize each blog or news feed in order of client or importance so when you need an interesting link to send out you don't have to search for thirty minutes.
How do you usually spring clean your business?
This article is written by Mickie Kennedy, founder of eReleases (http://www.ereleases.com), the online leader in affordable press release distribution. Download a free copy of the PR Checklist – a 24 point list of Press Release Dos and Don'ts here: http://www.ereleases.com/prchecklist.html