A few weeks back, I wrote a post talking about some of the types of comments you can delete from your blog. While I'm a firm believer in creating an environment where readers can freely share their opinions, I'm also a believer in creating an environment where the readers feel comfortable and don't have to worry about being spammed or offended.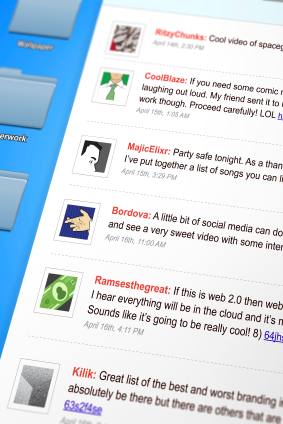 Of course, if you're going to be deleting comments, I think it's only fair to let readers know. Otherwise, they'll just think you're picking on them or playing dictator with your blog by trying to silence people who don't agree with you.
That's where creating an official Blog Comments Policy can help. By having an official set of rules for commenters to follow, there will be no question about why a comment was deleted. It's all there for everyone to see in black and white. It puts all commenters and readers on a level playing field, ensuring everyone is playing with the same rules.
So, how can you go about creating a comments policy for your blog? When setting your guidelines for comments, there are a few things you need to ask yourself:
Who is your audience?
What kind of atmosphere are you trying to create?
Are you going to be able to enforce these rules day in and day out to create a consistent, fair environment for commenters?
With these key considerations in mind, you're now ready to draft your actual guidelines for commenters. Here are some things your comments policy should include:
What types of comments will be moderated.
Maximum allowed length of comments.
Language allowed in comments (will you allow cussing? Personal insults?).
Rules for linking and self-promotion.
Details about registration or valid email address needed for commenting.
Most importantly, your comments policy shouldn't read like a legal contract. It shouldn't be full of legalese, and it should be more than a list of dos and don'ts. The best comments policies are clear and easy to understand, and they're written in a way that encourages readers to comment and interact on your blog. Remember, you don't want to scare people away from commenting.
Here are some of my favorite examples of comment policies on other blogs:
Do you have a set of guidelines for commenting on your blog? We'd love to see it. Share your comments policy with us!
This article is written by Mickie Kennedy, founder of eReleases (http://www.ereleases.com), the online leader in affordable press release distribution. Grab your free 160-page copy of the Big Press Release Book – Press Releases for Every Occasion and Industry here: http://www.ereleases.com/insider/bigbook.html