As PR Pros, we have to constantly stay abreast of all the changes in our field. Luckily, we don't have to do this alone, as our colleagues and friends are more than willing to assist us. And one way we can assist each other is during PR conferences!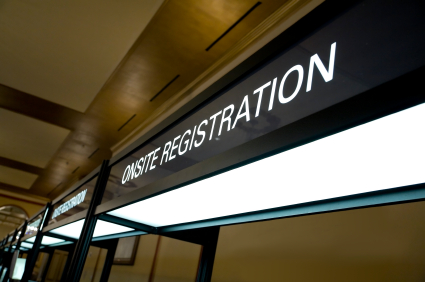 If you haven't scheduled any for 2012 yet, there are quite a few exciting options at your disposal. Here are some of my favorites for the first half of the year – maybe I'll see you there!
1. Social Media Conference (January)
The aptly named Social Media Conference covers the ins and outs of the social media world while you soak up the sun in Miami. Hundreds of speakers from everything from Fortune 100 companies to the military and intelligence bureaus will be in attendance to tell you just what the future holds for social media.
Social media is becoming more prevalent and important in today's business world so you can't get left behind! If you meet assistance for getting started to fine tuning your strategy, look no further than the Social Media Conference.
2. Online Marketing Summit 2012 (February)
Tired of the cold weather yet? If not, you may be by February, so head to sunny San Diego for the Online Marketing Summit. There, through a series of workshops, talks, and networking, you'll get all the latest expertise in search marketing, analytics, social media, strategy, and much more.
The OMS is designed to be great for beginners and advanced PR Pros, so whatever level you're at will suit you just fine. The conference is in its 7th year and shows no signs of slowing down, so get in while you still can!
3. PubCon (February)
If San Diego isn't sunny and tropical enough for you, what about Hawaii? Also taking place in February during the winter chill, PubCon features a vast array of speakers and contributors from companies all over the world, including Boost Search Marketing, Distilled Consulting, and AdLift.com. And while PubCon is focused on the excellent guests and what they can teach, you're still in a treat from all the exhibitions and other events.
4. SES New York (March)
The SES conferences are often so action packed it's tough to know where to begin. Should I start with the 5,000 fellow Pros you'll meet and interact with? Or how about the excellent panels on video optimization, link building, keyword research, and other PR and online marketing issues and challenges? What about the 100+ exhibitors and hundreds of speakers in attendance? Perhaps I'll just start by grabbing my ticket before they're sold out.
5. SMX (Multiple)
SMX, or Search Marketing Expo, is the conference for anyone looking to improve their chances of being seen in a busy Internet world. Attendees will learn about search engine algorithms, SEO, and techniques and practices that will bring your customers straight to your doorstep!
SMX appears in various cities around the world, but the SMX West is in San Jose the end of February through beginning of March. Look for London, Toronto, and New York later this year for an opportunity to sign up for a closer event.
What are some of your favorite conferences?
This article is written by Mickie Kennedy, founder of eReleases (http://www.ereleases.com), the online leader in affordable press release distribution. Grab your free 160-page copy of the Big Press Release Book – Press Releases for Every Occasion and Industry here: http://www.ereleases.com/insider/bigbook.html