It's no secret that social media is more important to business (not to mention everyday life) than ever before. But can it continue to grow and morph or will it eventually get pushed to the side in favor of the next big thing? Here are our top ten predictions for social media in 2012.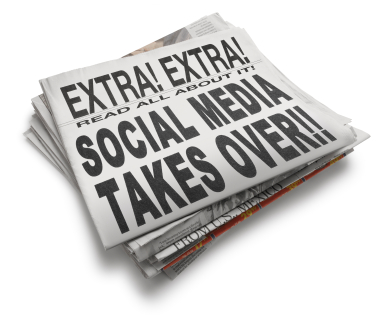 Multimedia networks will come into their own – Sure, we've been toying around with networks like Instagram for awhile now, but in 2012 you can bet that these multimedia networks will begin making their way to center stage. And while they may not overtake the bigger networks we all know and love, you can be sure that more users will begin to switch over, or at least tinker with the idea of making their social networking more visual.
More companies will take time to put together strong social media marketing PLANS – Lots of businesses are dabbling in social media, but how many consider it a priority? In 2012, companies will begin taking social media seriously and developing plans to start bringing in leads through these channels.
A new Facebook app will become available that actually works – Facebook may still be number one, but let's be honest – their iPhone app sucks. That said, this is the year it will finally get taken care of. Hopefully that means a brand new app. You'd think that such a behemoth could have an app that didn't bug out every other time you opened it.
Content outsourcing will become the norm – Freelance writers who are social media experts are already finding a new niche for them to slide into. As content creation demands grow in 2012, we predict that more and more businesses will outsource their writing duties. It's a good time to be a professional ghost blogger!
Google+ will take off – Google+ came out of the gates swinging, but once things slowed down, many naysayers began predicting doom and gloom for the new platform. However, 2012 is likely to find the social network making some changes and additions that could cause it to be a legitimate contender for Twitter and Facebook.
YouTube gets more social – There's no doubt about it: YouTube is looking to dig in and get its hands even dirtier in the social media arms race. They're making changes as we speak to give more of a social experience to users and are working hard to provide users with relevant content.
Social media becomes more important to blue collar businesses – That's right…blogging electricians. Tweeting pest control professionals. Flooring companies looking for more friends on Facebook. Not the sort of companies you'd expect to be marketing themselves through content creation, but it will happen. In fact, it already is. Another great opportunity for professional bloggers, by the way.
Twitter takes a step back…or sideways – Twitter is far from dying. But as a business tool, it will prove itself far less useful than once thought in this next year. While it will still work great for news, businesses will find themselves spending their time better on other networks.
Those peddling social media skills will be forced to show results – Social media specialists have been making money off of often unsubstantiated claims for some time now. But in 2012 we'll find social media being old enough that it's time to put up or shut up for these gurus. If they've really been in the game for some time, they should have some proven results to show the businesses they are trying to sell their services to.
Social media advertising grows in popularity – Placing ads on Facebook and other social media networks is still uncharted territory for many. But in 2012, as membership grows, so will the results produced by social media advertising. Look for competition in this area to boom.
There you have it. What do you predict 2012 has in store for social media?
This article is written by Mickie Kennedy, founder of eReleases (http://www.ereleases.com), the online leader in affordable press release distribution. Grab three ebooks, including My Facebook Formula, a free report on Facebook and why you should be using the largest social network for your business, here: http://www.ereleases.com/insider/freebooks.html