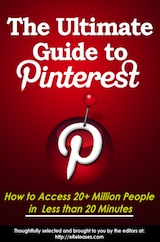 This whitepaper contains the following topics on Pinterest:
Can Pinterest Pull in Big Enough Numbers to Warrant the Trouble?
6 Innovative Ways to Drive Traffic With Pinterest
8 Reasons Why Marketers Should Use Pinterest
10 Effective Marketing Strategies to Use on Pinterest
Driving Sales & Traffic Through Pinterest: Two Case Studies
Download Free Report
Please make sure to enter your correct email address so that you will receive your free report.
About Us: eReleases offers access to the national newswire used by Fortune 500 corporations at a fraction of the cost.
We deliver personal service and exceptional value to every customer, every release, at every price point.
We respect your email privacy.