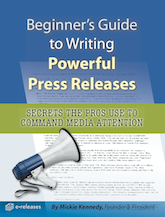 This ebook contains over 150 carefully crafted pages exploring the art of obtaining media attention with press releases.
Chapters include:
Press Release Style and Formatting
Everything You Need to Know About Writing a Headline
Writing the Body of a Press Release
Publicity Through Web 2.0, Social Media, and SEO Press Releases
Also features tips on what to do after you have distributed your press release.
Download Free Report
Please make sure to enter your correct email address so that you will receive your free report.
About Us: eReleases offers access to the national newswire used by Fortune 500 corporations at a fraction of the cost.
We deliver personal service and exceptional value to every customer, every release, at every price point.
We respect your email privacy.